Shepherd's huts are becoming increasingly popular as a way to enjoy the great outdoors without sacrificing the comforts of home. However, one of the challenges of owning a shepherd's hut is deciding what kind of bathroom and what kind of system best suits your site.
There are a few different bathroom setups you can have installed in a shepherd's hut. The first and most preferable/simple system is to have a regular conventional flushing toilet and electric shower, this is tried and tested and offers the most low maintenance and easy-to-use system. Another option is to install a composting toilet and gas water heating system, which uses natural materials to break down waste, this is best when you don't have access to black water waste and mains electricity. The third option uses the same water system as the composting toilet but instead uses a caravan-style cassette toilet.
If you want a more traditional bathroom, you can also install a water and sewer connection to your shepherd's hut. This will allow you to have a flushing toilet, a sink, and a shower.
No matter which option you choose, there are a few things you need to keep in mind when selecting a bathroom for your shepherd's hut. First, what is your service scenario? Do you have mains water, sewage (or treatment plant), and electricity? And how hard is it to install these services?
Second, what will you be using the hut for? Renting or private use? The on-grid system is best for the rental market as it is low maintenance and easy to use. The off-grid system still works well for the rental market but if you can get services installed it can save you from paying for the slightly more extensive off-grid system and can save money on the maintenance/upkeep costs.
Finally, The look and feel of your bathroom, off-grid hardware can make the bathroom feel more like that of a caravan, the hardware on the market is high quality and stylish but can never achieve the look of a traditional flushing toilet.
With a little planning, you can easily add a bathroom to your shepherd's hut. By following these tips, you can create a bathroom that is both functional and stylish.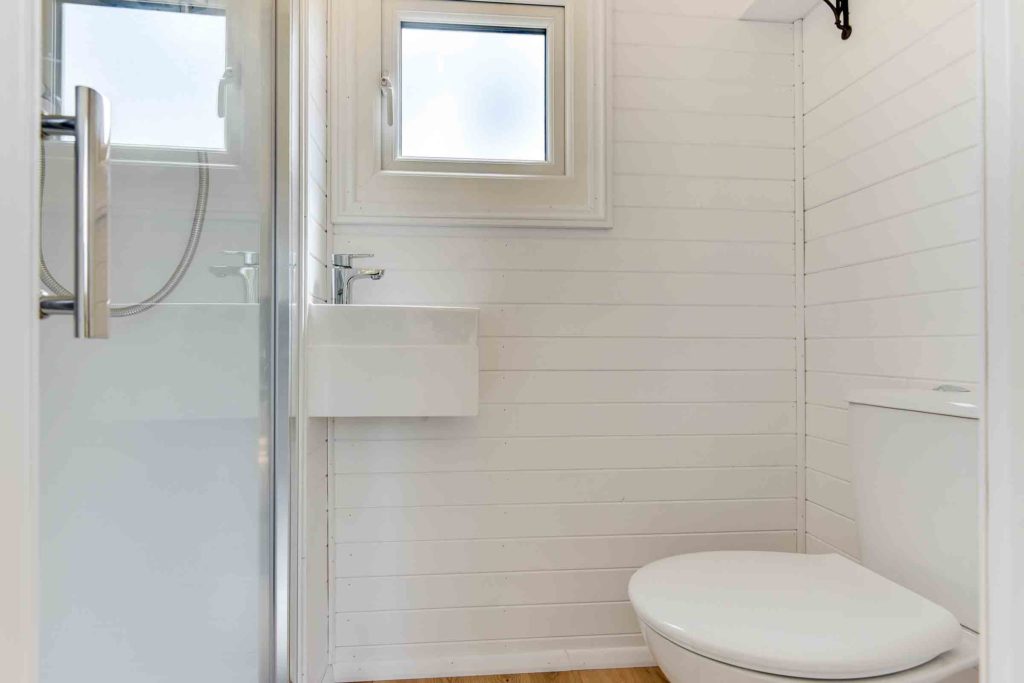 Here are some additional tips for designing a bathroom for your shepherd's hut:
Choose a layout from our selection of tried and tested options, there is more than one way to set out your hut with the bathroom in a couple of orientations, it varies from customer to customer but based on the other aspects of your hut it may be wise to choose the option that suits your layout.

If you are installing a cassette toilet, Be prepared to have to handle the toilet waste Cassette toilets are self-contained toilets that do not require a water or sewer connection. They are a good option for shepherd's huts that are not located near a water or sewer line. The cassette toilet is a container that holds the waste. When the cassette is full, it can be removed and taken to a disposal station.

If you are installing a composting toilet, make sure that there is a place to store the compost. The compost can be stored in a bin outside, or it can be buried in the ground. Composting toilets are a more environmentally friendly option than cassette toilets. They use natural materials to break down waste, which can then be used to fertilize plants.
By following these tips, you can easily create a bathroom that is both functional and stylish in your shepherd's hut.
Here at Holmes Hill Shepherds Huts, we can create the perfect hut to suit your exact requirements. Contact us today on 01825 280488 or email sales@holmeshillsh.com and our friendly team will be on hand to help you.